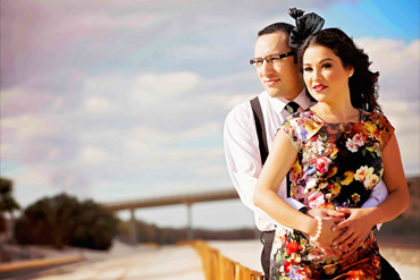 For your engagement photography session, it's important to wear clothing that you can sit, stand, and walk comfortably in, because you will be moving around a lot, in order to capture a variety of different engagement photo poses.
Don't forget to think about your shoes. Ladies, we all know that the perfect pair of shoes can make your outfit. Unfortunately, those shoes tend not to be the most comfortable Consider bringing an extra pair of flats or sandals to walk around in, especially if you engagement session will be in Palm Springs or a beach.
Dress in clothes that are in the same color palette – but are not exactly the same. Think blues and grays, or browns and reds. There is no need to match perfectly, but looking coordinated with the same style of dress is important. Guys, if you want to wear jeans and a polo shirt, double-check that your lady isn't looking at a new amazing cocktail dress for your engagement images (and ladies, if you found that perfect cocktail dress, then dress him up!). If you are having your engagement photography session in Palm Springs we recommend using colorful clothing against the neutral desert colors.
If you are going for a casual look, there are a few simple ways to give casual looks that extra pop. For guys, try collared shirts with dark jeans and lace-free dress shoes (if you are wearing sneakers make sure they are nice and clean). Girls, you can never go wrong with a great sundress. If it's a bit chillier for your engagement session, dark jeans with amazing shoes are also a great dressy /casual combo. Fitted clothes (although not skintight clothes) translate better in photographs than loose, baggy garb. Anything hanging off your body (baggy) will make you look bigger than you are, and sloppier, too.
Stick to solid colors or subtle patterns. Bold stripes, large designs, and polka dots stand out too much, and tend to draw attention away from your face, which should be the main focus of your portraits. A mix of patterns can clash and reduce the quality of your engagement portraits. This isn't to say that you can't wear any patterns at all. Just be selective.
If one of you wants to wear a pinstriped or plaid shirt, it will work best if the other wears a top in a solid color seen in the pattern of your significant other's top. This goes for both of you, don't forget to accessorize, jewelry, watches etc…
Most importantly: Be comfortable and have fun with your engagement session! You will have a much better time, which always makes for better photos.
White shirts and jeans don't have much personality, and your engagement session is your time to let your personality shine. Try to avoid complete black and/or white – gray or ivory will complement your skin far better.
The most important thing to remember when preparing for engagement photos is that we are photographing the two of you, so be yourself! Dress nicely, but don't get so "dressed up" that you are uncomfortable. Interact with each other the way you normally would. Go ahead, ignore your photographer (for the most part)! Goof off, make faces, cuddle, laugh, play – in short, be excited. It's all about having fun and being in love.
Great ideas for props:
Sunglasses, a "Save the Date" sign, musical instruments (you may play), hats, pets or something that is important to you both.
Remember these ideas are more like guidelines not necessarily rules. The most important thing is to be yourself and have FUN!!!
Lisandro Rivera Photography