Liz's Greater Than Gatsby Quinceanera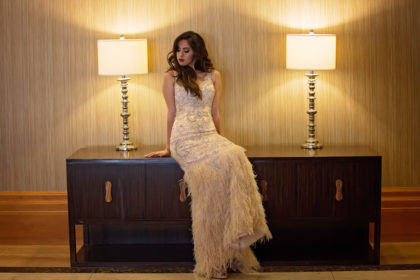 Let me start of by saying that I had so much fun at this beautiful Coachella Valley Quinceanera.
This was a Greater than Gatsby themed Quinceanera, the décor was done by Orchid decorations and the beautiful cake was made by Nana D's Underground Bakery. Everything looked amazing!
We started at Liz's home in La Quinta and proceeded to take Quinceanera pictures in beautiful Oldtown La Quinta. The scenery was amazing and it complemented Liz's Quinceanera dress beautifully.
It was a warm day but Liz worked with me and we were able to get beautiful pictures.
The Quinceanera was at the Renaissance Esmeralda Resort in Indian Wells.
During the waltz her father whom she had not seen in a long time surprised Liz. He came to the dance floor singing "de niña a mujer" he traveled from Alaska to attend the celebration.
The evening ended with everyone dancing and having a great time.
I received this message from Beatriz the Quinceanera's mother,
"Great job you did for my daughter Lizzy at the Esmeralda! You were a delight to have around.. We loved your pictures and will definitely look for you again in our future events! Thank you again!"
It was a pleasure to be the photographer for your Quinceanera Liz!
Lisandro Rivera Photography
www.leeriveraphotography.com
(310) 629-5575
BEST QUINCEANERA PHOTOGRAPHER IN PALM SPRINGS
We also do Quinceanera Photography in Coachella